Fanatec® Clubsport Steering Wheel RS
Regular price
$290.00 USD
Regular price
Sale price
$290.00 USD
Unit price
per
Sale
Sold out
The product is out of stock
ClubSport Steering Wheel RS. Race with style.
Authentic materials and a stunning design means you'll feel like you're sitting in a real car.
OPTIMISED FOR RACING.
The realistic 320 mm diameter is perfectly suited to driving a wide variety of cars. The fully round wheel is well-balanced, and ergonomically optimised for comfort.
FINEST LEATHER.
The wheel rim is covered with the finest automotive grade leather - the same quality as used in real cars.
Premium race technology.
We use the same high-performance materials as found in race car components, such as carbon fibre and aluminium. The RS features magnetic shifters that provide awesome tactile feedback.
MAGNETIC SHIFTERS.
Thanks to the CNC-machined aluminium magnetic paddles, you'll shift gears with confidence every time. They can also be exchanged for the Podium Advanced Paddle Module with additional clutch paddles (optional).


READY FOR THE FUTURE.
The exchangeable QR1 Wheel-Side (ClubSport Quick Release Adapter) means the wheel can be upgraded easily to the next-generation QR2 system (coming soon).
Perform at your best.
Set up your hardware the way you want using configurable inputs and tuning options.
FUNKYSWITCH™.
The 7-way FunkySwitch™ is a multi-purpose input device, with d-pad, push-button, and rotary encoder, allowing you to adjust your wheel base force feedback and other hardware settings while you drive.
TELEMETRY DISPLAYS.
A RevLED bar is integrated with the top section of the rim. The three-digit LED display can be used to show telemetry data, and is also used for Tuning Menu access, to configure hardware settings.
FURTHER LINKS
---
Realistic 320 mm diameter allows for precision and smooth driving
Durable construction made of metal and carbon fibre
Wheel rim wrapped in genuine, automotive-grade leather
Improved grip shape for increased comfort
Improved torsional strength
Improved electronics means wheel is firmware-updatable
RevLED bar integrated into rim to show engine RPM (game dependent)
LED display to show telemetry functions (game dependent)
Tuning functions with LED display to adjust settings independent from the game and during gameplay (see description of compatible wheel base/racing wheel for details)
ClubSport Magnetic Paddle Module pre-installed:

3 mm-thick, black anodised aluminium paddle plates
Paddle module cage made of CNC-machined aluminium
Neodymium magnets
Paddle module easily upgradable to Podium Advanced Paddle Module (optional)

11 Buttons plus two paddle shifter buttons with ultra-reliable switches
7-way FunkySwitch™: left, right, up, and down directional inputs, push button, and rotary encoder functionality
Analogue joystick
Exchangeable aluminium quick release
Steering wheel weight: approx. 1653 g (including QR1 Wheel-Side)
---
Wheel Bases
This product is only compatible with the following wheel bases:
CSL DD
CSL Elite Wheel Base
CSL Elite Wheel Base V1.1
CSL Elite Wheel Base + - officially licensed for PS4™
CSL Elite Racing Wheel - officially licensed for PS4™
ClubSport Wheel Base V2
ClubSport Wheel Base V2.5
PODIUM Wheel Base DD1
PODIUM Wheel Base DD2
PODIUM Racing Wheel F1® PS4™
Accessories:
Podium Advanced Paddle Module
ClubSport Magnetic Paddle Module
QR1 Wheel-Side
Platforms
PC: this product is compatible with Windows PC.
Xbox: this product is not compatible with Xbox systems.
PlayStation: The functionality of this product on PS4 can be limited by the capabilities of the console (subject to firmware/OS changes and developer support). The full functionality can only be guaranteed on PC; this is also game-dependent. PlayStation 5: Check our platform compatibility page for more details.
---
In order to operate this product, a compatible Fanatec Wheel Base (not included) is mandatory!
---
PACKAGING DETAILS
Dimensions (L x W x H)40cm x 38.5cm x 20cm
Weight2.72kg
Volume weight6.16kg
WHAT'S INCLUDED
ClubSport Steering Wheel RS
ClubSport Magnetic Paddle Module with aluminium paddle plates (pre-installed)
QR1 Wheel-Side (ClubSport Quick Release Adapter), packaged separately
Safety pin for long-term storage
Safety screw for permanent mount on wheel base
Quick Guide
---
Share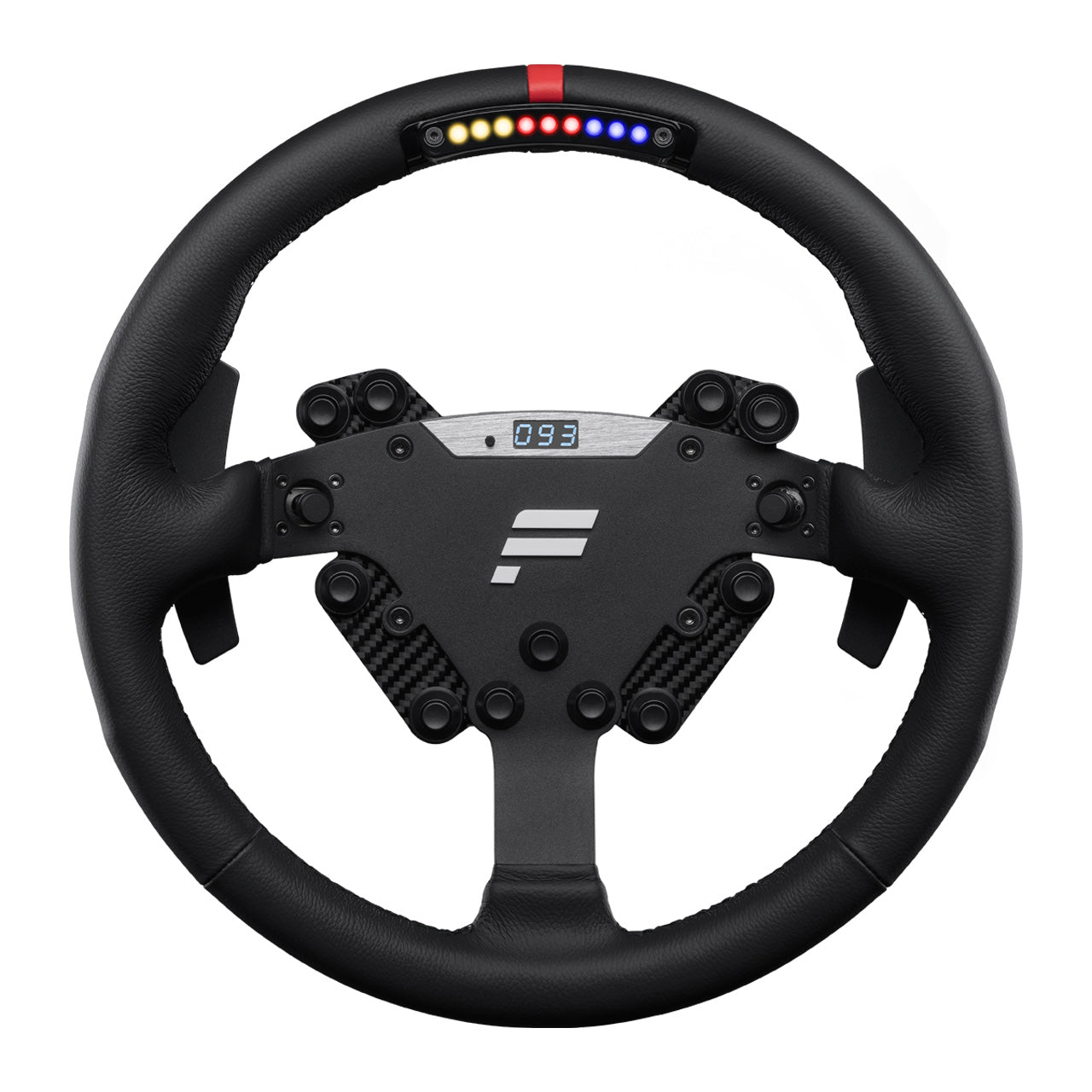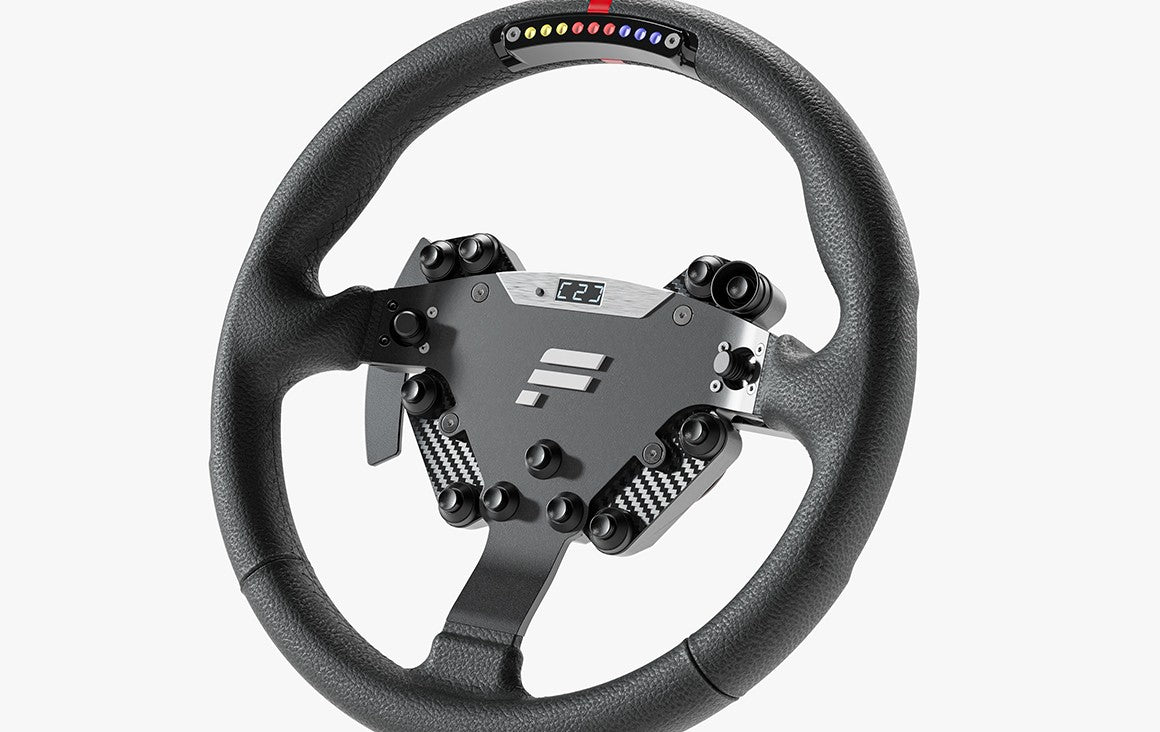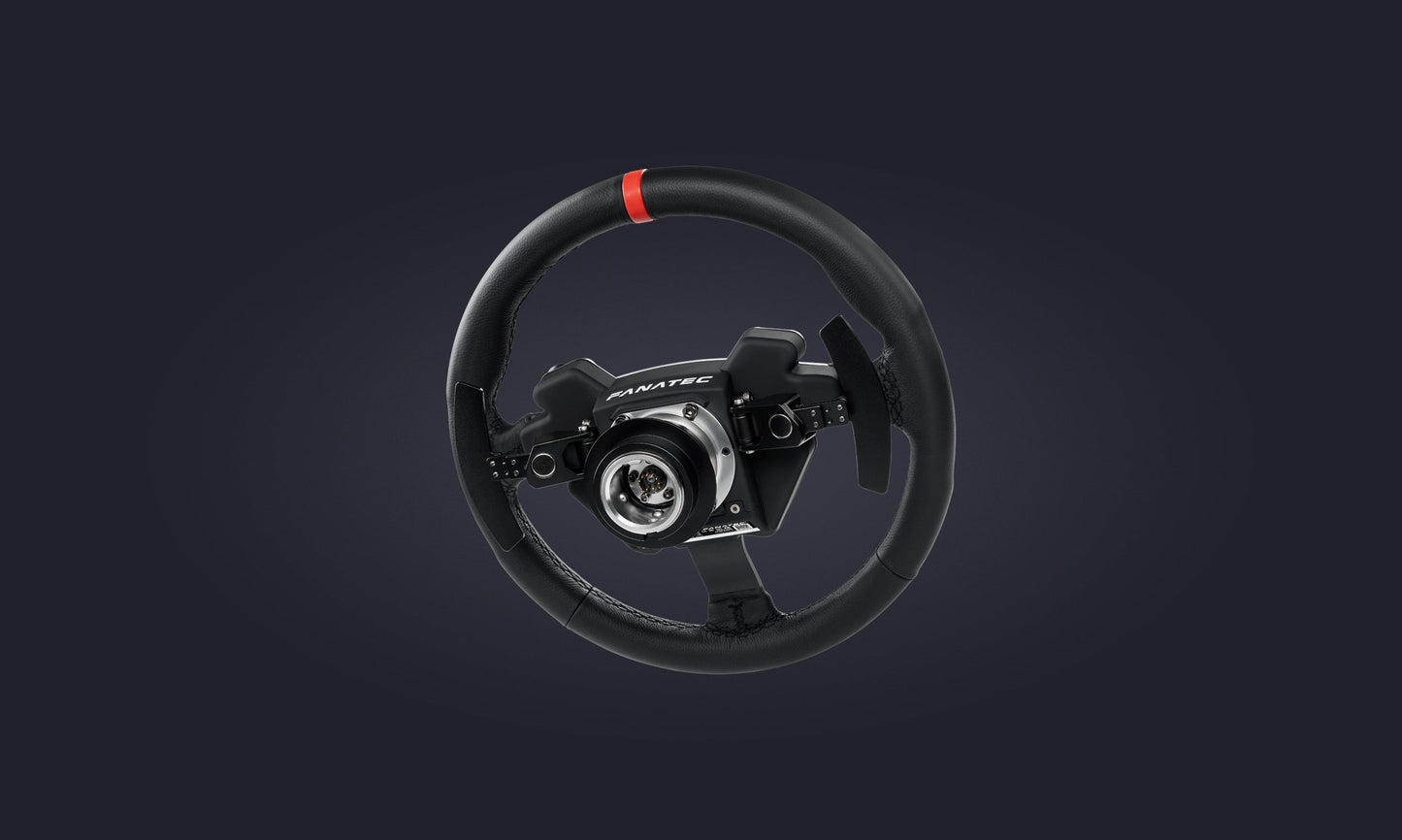 We're Experts

Our team of experts have experience on the track and on the sim. We'll do everything we can to help you set up the exactly what you need, making sure you don't miss a thing.

Ask us a Question

Quick Shipping

Everything that is in stock will ship the same day. We know you're eager to get in the racing seat, and we'll do everything we can to make sure it arrives safely at your doorstep.

Safety Matters

Even while racing on the sim, it is important to put safety first. Our collection of safety apparel contains gaming specific and FIA/SFI certified, top of the line products.

Shop Safety
Fanatec®
We offer the best products from the top in the industry. The 100% custom motor was developed in Germany specifically for sim racing. It delivers sensational performance thanks to patented FluxBarrier technology, communicating the nuances of force feedback detail to your hands with remarkable clarity.
Don't miss a race.
View our calendar for the latest race information and how to register. Get yourself in the hot seat and start racing today.
Event Calendar