Fanatec® Clubsport V3 Pedals
Regular price
$374.00 USD
Regular price
Sale price
$374.00 USD
Unit price
per
Sale
Sold out
The product is out of stock
Advanced Technology
Nothing will make you faster than a set of good pedals. We are using the latest and most advanced technology to give you an advantage.
90 KG LOAD CELL (ADJUSTABLE)
The custom made load cell is extremely durable and much more precise as the one in V2. You can apply a realistic and strong pressure and precisely control the brake with muscle tension just like in a real car.
NEW PEDAL PLATES
The new D-shape pedal plates and the new pedal extensions now allow to adjust the angle of the pedal plate and the angle of the whole pedal arm.
PROVEN DESIGN
The third generation of the ClubSport pedals is still using the simple but proven design of its legendary predecessors.
MAXIMUM ADJUSTABILITY
There are countless ways to adjust these pedals according to your racing style and ergonomics.
Contactless Hall Sensors
The electronics have been completely revised and the magnetic hall sensors of the gas and clutch feature 4x the resolution of the V2 pedals. Each axis can be calibrated in the wheel or in the driver.
Adjustable Brake Stiffness
The completely new design of the brake allows to adjust the stiffness and travel of the brake pedal without using any tools.
---
High resolution pedals with magnetic and contactless sensors on gas and clutch for a long life and maximum performance
Pressure sensitive brake with custom made 90 kg load cell sensor
Adjustable brake stiffness and travel without tools
12bit resolution (4096 values) on all axis
Alternative D-shape race plates in curved design. Ideal for standing pedals
Pedal extension to adjust the angle of the pedal plate and to change the angle of the whole pedal arm
Brake sensitivity can be adjusted through the tuning menu of the wheel and during the race
Vibration motor on throttle pedal indicates rear wheel spin and oversteer (control by games is possible via Fanatec Wheel SDK)
Vibration motor on brake pedal to simulate ABS and indicate locking tires (controlled by Fanatec wheels: Compatible to all games. Dynamic control by games is possible via Fanatec Wheel SDK)
Design of the gas pedal allows quick exchange of the springs. Two springs with different strength are included
Optional damper kit for gas and brake.The hyraulic dampening resistance can easily be adjusted with a knob
Full multi platform compatibility, depending solely on the platform compatibilities of the connected Wheel Base/Racing Wheel
Full metal construction of CNC-machined aluminum
Ultimate adjustability: Position of pedal plates in all directions, angle, spring strength at throttle, brake sensitivity, brake travel
Compatible to the colour kits to allow perfect optical customisation
---
Platforms
PC:

If you connect it to a Fanatec Wheel Base / Racing Wheel it will be compatible to all racing games. For that case, please check the compatibility details on the product page of the connected product.
It will work with any racing wheel, also of any other brand (Logitech, Thrustmaster, etc), if the pedals are connected to PC via USB and if the game supports a second controller. E.g. these PC games support a second USB controller:

iRacing
Assetto Corsa
Project Cars
GTR 2
Race 07
rFactor
Live for Speed
...and many others

Consoles: This pedal set can be used on gaming consoles, if connected through a Fanatec Wheel Base / Racing Wheel. Please check the information on the product page of the Fanatec product through which they will be connected to the console. It will not work on consoles using the direct USB Connection or a ClubSport USB Adapter.
Peripherals
Compatible to any Fanatec Wheel Base or Fanatec Racing Wheel with RJ12 Pedals connector. To connect Fanatec Wheels with PS/2 Pedal Socket, you need the additional PS/2 to RJ12 cable.
Compatible to ClubSport Pedals V3 Brake Performance Kit
Compatible to ClubSport Pedals V3 Damper Kit (throttle and brake pedal)
Dedicated plug for the ClubSport Handbrake
The pedals are not compatible to the ClubSport USB Adapter. Please use the included USB connector (PC only).
---
Please note that the vibration function on gas and brake is not supported by all games. On PC it can be implemented with plug ins to our driver / third party software if the games sends the telemetry data.
Max resolution depending on the connection:

through PWT / PWTS / CSR / CSR Elite wheel: 8 bit (256 values) on all axes
through CSW B V1 / CSW B V2 / CS WB V2.5 / CSL E WB / CSL E RW PS4: 12 bit (4096 values) on all axes
USB direct connection (PC): 12 bit (4096 values) on all axes
---
PACKAGING DETAILS
Dimensions (L x W x H)43cm x 28cm x 43cm
Weight7.94kg
Volume weight10.35kg
WHATS INCLUDED
ClubSport Pedals V3
3x Pedal Extensions
3x D-shape pedal plates
1x Strong spring throttle (black)
1x Strong spring clutch (black)
1x RJ12 connection cable (150cm)
1x USB connection cable (180cm)
1x Lithium grease bottle
1x Quick Guide
---
PlatformPC, PS4 Ready, XBox One Ready
Adjustable pedal angleYes
Color kitOptional
Brake performance kitOptional
Max bits of resolution12 (4096) on all axes
USB ConnectivityDirect
Adjustable brake stiffness and travelYes
Adjustable spring strengthThrottle
SensorsContactless magnetic, Loadcell
Pedal padsAnodized aluminium, D-shaped
Vertically adjustableYes
Horizontally adjustableYes
DamperOptional
Throttle vibrationYes
ABS brake vibrationYes
Degressive clutchYes
Clutch pedalYes
Adjustable brake sensitivityYes
Load cell brakeYes
Main materialCNC machined Aluminium
HardmountBottom
Share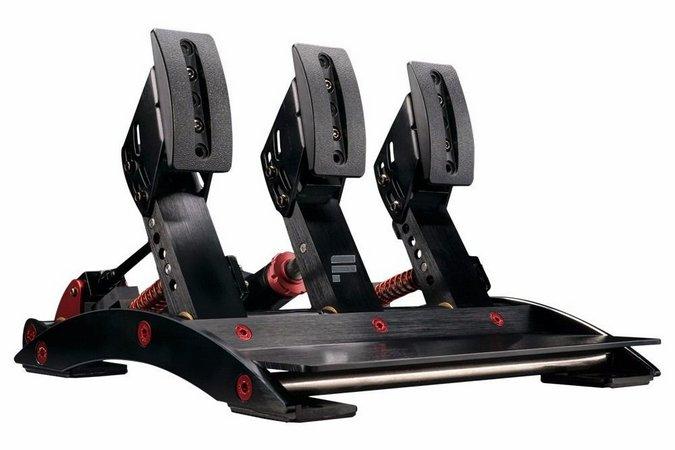 We're Experts

Our team of experts have experience on the track and on the sim. We'll do everything we can to help you set up the exactly what you need, making sure you don't miss a thing.

Ask us a Question

Quick Shipping

Everything that is in stock will ship the same day. We know you're eager to get in the racing seat, and we'll do everything we can to make sure it arrives safely at your doorstep.

Safety Matters

Even while racing on the sim, it is important to put safety first. Our collection of safety apparel contains gaming specific and FIA/SFI certified, top of the line products.

Shop Safety
Fanatec®
We offer the best products from the top in the industry. The 100% custom motor was developed in Germany specifically for sim racing. It delivers sensational performance thanks to patented FluxBarrier technology, communicating the nuances of force feedback detail to your hands with remarkable clarity.
Don't miss a race.
View our calendar for the latest race information and how to register. Get yourself in the hot seat and start racing today.
Event Calendar