Fanatec® CSL 3 Pedal Set
Regular price
$125.00 USD
Regular price
Sale price
$125.00 USD
Unit price
per
Sale
Sold out
The product is out of stock
Pedal to the metal.
The CSL Pedals are solidly built from steel. Precise and durable sensors allow you to stay in control with smooth throttle and brake inputs.
HEAVY STEEL CONSTRUCTION.
The stability of the all-metal design means it is built to last. The stiffer spring on the brake pedal combined with the PU foam damper provides a realistic, progressive feeling.

MAGNETIC SENSORS.
Both the throttle and brake axes use precision Hall-effect sensors. By measuring pedal position with magnets, the system is contactless, meaning no wear on the sensor and consistent performance.
METAL PEDAL FACES.
Transform the appearance of the CSL Pedals with durable, anodised aluminium pedal faces (optional, coming soon). The throttle pedal face is extended, allowing for a comfortable heel-and-toe technique.
PLUG AND PLAY.
CSL Pedals connect directly to any supported FANATEC® Wheel Base via the included RJ12 cable. Alternatively, they can be used as a standalone USB device with the
ClubSport USB Adapter
(available separately), or with the CSL Pedals Load Cell Kit (coming soon).
ADJUSTABLE.
Find a comfortable driving position with customisable horizontal pedal spacing and pedal plate height adjustment. The pedals can be hard-mounted, or you can easily brace them against a wall or hard surface thanks to the vertical plates at the rear.
Share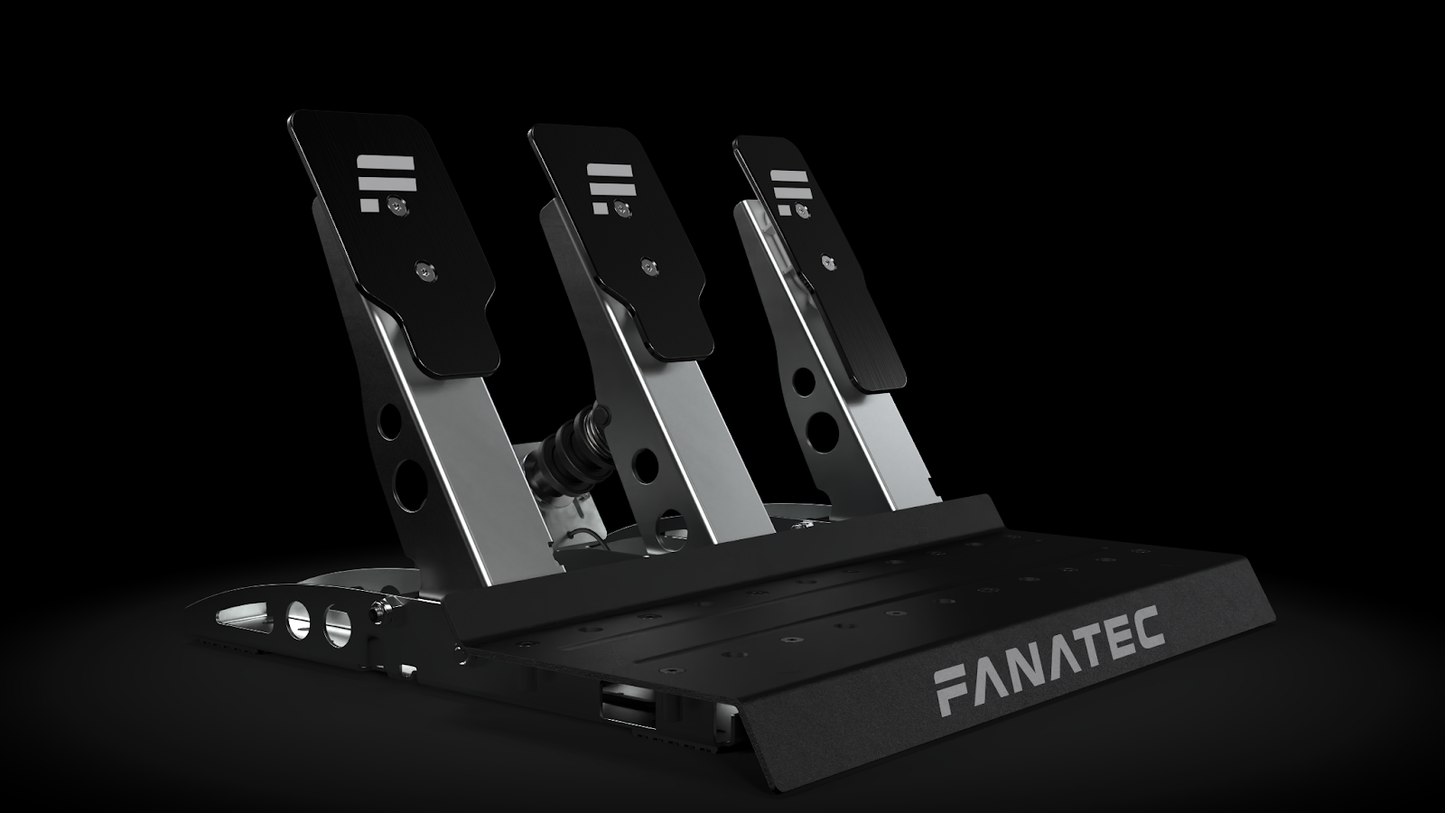 We're Experts

Our team of experts have experience on the track and on the sim. We'll do everything we can to help you set up the exactly what you need, making sure you don't miss a thing.

Ask us a Question

Quick Shipping

Everything that is in stock will ship the same day. We know you're eager to get in the racing seat, and we'll do everything we can to make sure it arrives safely at your doorstep.

Safety Matters

Even while racing on the sim, it is important to put safety first. Our collection of safety apparel contains gaming specific and FIA/SFI certified, top of the line products.

Shop Safety
Fanatec®
We offer the best products from the top in the industry. The 100% custom motor was developed in Germany specifically for sim racing. It delivers sensational performance thanks to patented FluxBarrier technology, communicating the nuances of force feedback detail to your hands with remarkable clarity.
Don't miss a race.
View our calendar for the latest race information and how to register. Get yourself in the hot seat and start racing today.
Event Calendar