Fanatec® CSL ELITE 2 Pedal Set
Regular price
$105.00 USD
Regular price
Sale price
$105.00 USD
Unit price
per
Sale
Sold out
The product is out of stock
Premium Materials.
Even at the mid-range price you get the same technology and materials as used in high-end pedals.
SOLID, FULL-METAL DESIGN.
The high quality full-metal Aluminium design ensures long lasting durability, improves resistance and delivers the pedals impressive stability.
12-BIT RESOLUTION.
The new electronics feature potentiometer sensors with metal gears on the two pedal arms that provide the same 12-bit resolution as the ClubSport V3 pedals.
Fully adjustable.
The new, innovative design provides various tuning and setup options.
FREE LAYOUT.
Each pedals (gas, brake, optional clutch) horizontal position on the heelrest is individually adjustable, and can even be separately mounted onto your customized cockpit without the heelrest plate.
FREE CHOICE OF PEDAL PLATE SURFACE.
The detachable rubber pads on the pedals give you the choice between grip or a slick surface.
Optional Loadcell Kit.
The CSL Elite Pedals can be extended with the optional CSL Elite Pedals Loadcell Kit to add a loadcell brake for extremely precise braking by pressure rather than travel.
OPTIONAL CLUTCH PEDAL.
The optional CSL Elite Pedals Loadcell Kit adds a third pedal, the loadcell brake unit, and uses the former brake unit as clutch pedal with a new limiter pad.
MAKE YOUR PEDALS PERFECT.
The optional loadcell brake pedal unit comes with a high durable loadcell integration up to 90 kg pressure. The PCBA exchange unit adds USB connectivity and a Handbrake port.
---
Plug and play pedals with throttle and brake pedal unit
Pedal units and heel rest made from solid Aluminum
Brake pedal with metal spring and PU foam damper for pressure braking simulation and more realism
Extra long pedals for more realism and comfort
Adjustable horizontal distance between pedal units, allows asynchronous setup
Ability to easily remove pedals from heelrest and install them together with the electronics in cockpits or stands seperately
12bit resolution potentiometers
Heel rest offers large rest surface
Detachable rubber pedal covers offer good grip on soft surface
Direct connection to Fanatec Wheel Bases and Racing Wheels
USB connection to PC only via ClubSport USB Adapter (optional)
Upgradable by CSL Elite Pedals Loadcell Kit (optional)
---
Platforms
PC: The CSL Elite Pedals must be connected directly to the Wheel Base and do not come with an USB connector. For USB functionality you need to use a ClubSport USB Adapter or upgrade with the CSL Elite Pedals Loadcell Kit that comes with a PCBA replace and adds a USB connector as well as a handprake port. For details please see the CSL Elite Pedals Loadcell Kit.
Consoles: This pedal set can be used on gaming consoles, if connected through a Fanatec Wheel Base / Racing Wheel. Please check the information on the product page of the Fanatec product through which they will be connected to the console. It will not work on consoles using a ClubSport USB Adapter.
Peripherals
Compatible to any Fanatec Wheel Base or Fanatec Racing Wheel with RJ12 Pedals connector. To connect Fanatec Wheels with PS/2 Pedal Socket, you need the additional PS/2 to RJ12 cable.
---
If you want to use this product standalone you need to purchase additional products (see compatibility).
Slight colour variations may occur between CSL Elite Pedals and CSL Elite Pedals Loadcell Kit.
Max resolution depending on the connection:

through CSW B V1 / CSW B V2 / CS WB V2.5 / CSL E WB / CSL E RW PS4: 12 bit (4096 values) on both axes
through ClubSport USB Adapter (not included, PC only): 8 bit (256 values) on both axes
---
PACKAGING DETAILS
Dimensions (L x W x H)47cm x 31cm x 18cm
Weight3.3kg
Volume weight5.25kg
WHATS INCLUDED
Throttle pedal unit
Brake pedal unit with PU foam damper
Heel rest
1x Wheel Base connection cable RJ12/RJ12 (~3m)
2x rubber pedal cover (detachable)
1x Wrench 13 mm (cropped)
1x Allen Key 6 mm
1x Quick Guide
Mounting screws
---
PlatformPC Ready, PS4 Ready, XBox One Ready
Adjustable pedal angleNo
HardmountBottom
Color kitNo
Max bits of resolution12 (4096) on all axes
USB ConnectivityWith optional adapter
Adjustable brake stiffness and travelNo
SensorsPotentiometer
Pedal padsAluminium, Rubber
Vertically adjustableNo
Horizontally adjustableYes
DamperNo
Throttle vibrationNo
ABS brake vibrationNo
Clutch pedalNo
Adjustable brake sensitivityNo
Load cell brakeOptional
Main materialDiecast Aluminium
Share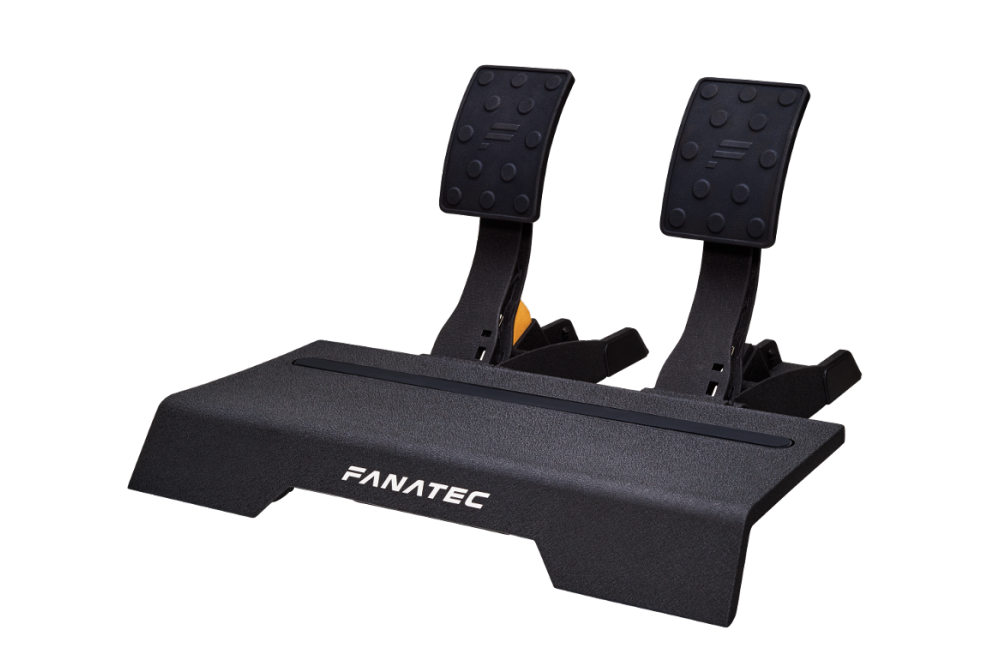 We're Experts

Our team of experts have experience on the track and on the sim. We'll do everything we can to help you set up the exactly what you need, making sure you don't miss a thing.

Ask us a Question

Quick Shipping

Everything that is in stock will ship the same day. We know you're eager to get in the racing seat, and we'll do everything we can to make sure it arrives safely at your doorstep.

Safety Matters

Even while racing on the sim, it is important to put safety first. Our collection of safety apparel contains gaming specific and FIA/SFI certified, top of the line products.

Shop Safety
Fanatec®
We offer the best products from the top in the industry. The 100% custom motor was developed in Germany specifically for sim racing. It delivers sensational performance thanks to patented FluxBarrier technology, communicating the nuances of force feedback detail to your hands with remarkable clarity.
Don't miss a race.
View our calendar for the latest race information and how to register. Get yourself in the hot seat and start racing today.
Event Calendar