Fanatec® CSL Elite WRC Steering Wheel For XBOX ONE
Regular price
$212.00 USD
Regular price
Sale price
$212.00 USD
Unit price
per
Sale
Sold out
The product is out of stock
Conquer the toughest conditions.
Officially licensed by the World Rally Championship (WRC), the CSL Elite Steering Wheel WRC is perfect for mastering the most demanding rally stages. This wheel will be used in official WRC Esports competitions.
FEATURES AND QUALITY.
Brushed aluminium spokes, genuine Alcantara'® grip, and orange stitching. The detachable paddles feature Snapdome€ž activation for a satisfying 'Ëclick response. The RevStripe€ž and integrated three-digit LED screen show useful data in compatible games. Also provides Tuning Menu access, allowing tweaks to your settings during gameplay.
RALLY-INSPIRED DESIGN.
Sporting a revised internal and external design, the CSL Elite Steering Wheel WRC makes a bold visual statement with its tyre tread graphic and bright orange accents on the paddles and stitching. The 300 mm rim diameter is suitable for many vehicle types, and the lightweight construction is ideal for the quick inputs required in rally driving.
Exchangeable parts.
The wheel features exchangeable components, namely the New Simplified Quick Release Adapter and the shifter paddles. The pre-installed Xbox button caps can also be replaced with the included Racing Style caps.
TOOL-FREE SIMPLIFIED QUICK RELEASE.
No clamping bolt required! The improved Simplified QRA clamps easily to the steering shaft by hand, without the need for tools. The new design is also removable, and can be replaced with the ClubSport Quick Release Adapter*.


REMOVABLE PADDLES.
The bright orange paddles can be removed, allowing clearance for the optional ClubSport Static Shifter Paddles, which can be more comfortable to use while rally driving.
Xbox One'® and Xbox Series X|S compatible.
As soon as you connect this steering wheel to your compatible wheel base, the whole system (including attached peripherals such as shifters, pedals, or handbrake) will become Xbox One and Xbox Series X|S compatible.
THE XBOX ONE'® / WINDOWS'® 10 (XBOX PLAY ANYWHERE) MODE.
All compatible FANATEC'® wheel bases will switch to Xbox One mode as soon as you connect this steering wheel. A white LED placed above the Xbox logo of the steering wheel shows the active communication to the console.
SUPPORTS THE NEW XBOX.
By integrating the Xbox One-specific electronics into this steering wheel, your wheel system will remain compatible with the new generation of Xbox consoles (including Xbox Series X).
FURTHER LINKS
QUESTIONS ABOUT THE PRODUCT?' FURTHER CSL PRODUCTS
FEATURES
Perfect for rally racing and officially licensed by WRC
A connected Fanatec wheel base will become compatible with the Xbox One and Xbox Series X|S due to integration of the Xbox-specific electronics into the wheel
Plug & Play: Ready to use right away without any assembly required
Realistic size (300 mm diameter)
New tool-free Simplified Quick Release Adapter design:

Improved ease of use (no clamping bolt required) and durability
Exchangeable, supports ClubSport Quick Release Adapter*
Avoids any play in the QR system

Very low steering wheel weight of only 1092 g (with Simplified QRA) for fast acceleration and fidelity (1280 g with ClubSport QRA).
Integrated RevStripe€ž, which is a combined centre stripe and a 'ËRev meter, using a multi-colour LED
Three-digit LED display smoothly integrated into the wheel rim below the RevStripe€ž, featuring telemetry data speed or gears to be displayed by compatible games or third-party software
Wheel rim covered with genuine Alcantara'® and an eye-catching orange cross-stitched seam
Orange shifter paddles:

Durable metal construction
Well-defined, Snapdome€ž-activated '"click' feeling
Removable paddles for using wheel in combination with ClubSport Static Shifter Paddles

Brushed aluminium spokes with fibre-reinforced back cover
Xbox One button layout, interchangeable with the included Racing Style buttons
4-way direction pad with push button
Tuning functions with LED display to adjust settings independent from the game and during gameplay (see description of compatible wheel base/racing wheel for details)
COMPATIBILITY
Wheel Bases
PODIUM Wheel Base DD1 (Low Torque Mode only*)
PODIUM Wheel Base DD2 (Low Torque Mode only*)
PODIUM Wheel Base DD1 PS4€ž (Low Torque Mode only*)
ClubSport Wheel Base V2
ClubSport Wheel Base V2.5
CSL Elite Wheel Base V1
CSL Elite Wheel Base V1.1
CSL Elite Wheel Base + - officially licensed for PS4€ž
Platforms
Xbox: if connected with this steering wheel, the above mentioned wheel bases will be compatible with Xbox One and Xbox Series X|S. For a complete list of compatible games, please visit this' page.
PC and other Platforms: The specifications of the compatible wheel bases will remain unchanged.
The functionality of this product on Xbox One or PS4/PS5 can be limited by the capabilities of the console (subject to firmware/OS changes and developer support). The full functionality can only be guaranteed on PC; this is also game-dependent.
SPECIAL NOTES
In order to operate this product, a compatible Fanatec Wheel Base (not included) is mandatory! A firmware update might be necessary.
It is possible to use Xbox mode on Windows 10 with Xbox Play Anywhere titles.
*High Torque Mode is NOT accessible on Podium wheel bases using this wheel, even when using the ClubSport Quick Release Adapter.
PACKAGING DETAILS
Dimensions (L x W x H)19cm x 36cm x 38cm
Weight2.1kg
Volume weight5.5kg
WHATS INCLUDED
CSL Elite Steering Wheel WRC

Wheel-side quick release (selected before checkout, packaged separately)

Racing Style button caps
Quick Guide
TECHNICAL SPECIFICATIONS
PlatformPC, PS4 Ready, XBox One
Share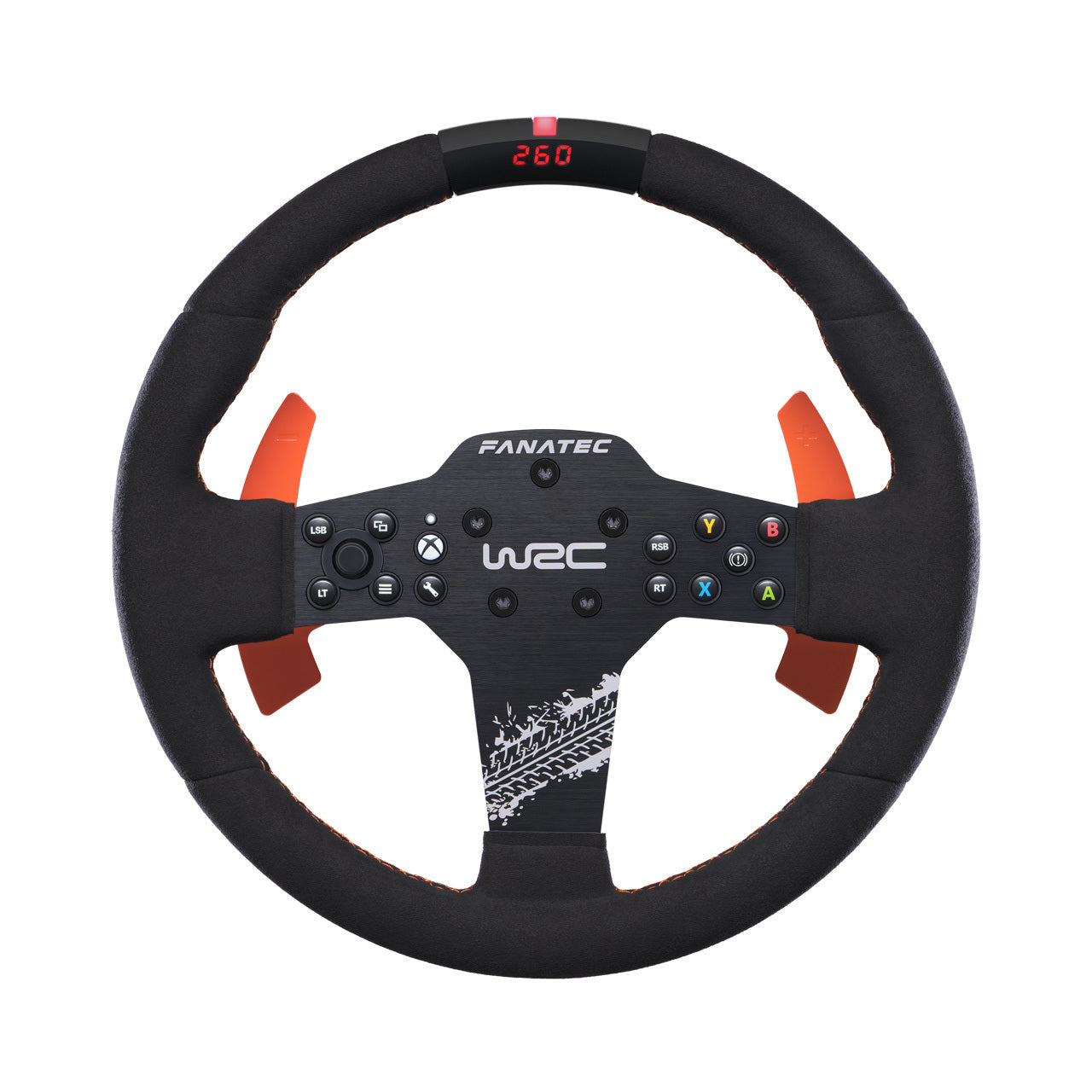 We're Experts

Our team of experts have experience on the track and on the sim. We'll do everything we can to help you set up the exactly what you need, making sure you don't miss a thing.

Ask us a Question

Quick Shipping

Everything that is in stock will ship the same day. We know you're eager to get in the racing seat, and we'll do everything we can to make sure it arrives safely at your doorstep.

Safety Matters

Even while racing on the sim, it is important to put safety first. Our collection of safety apparel contains gaming specific and FIA/SFI certified, top of the line products.

Shop Safety
Fanatec®
We offer the best products from the top in the industry. The 100% custom motor was developed in Germany specifically for sim racing. It delivers sensational performance thanks to patented FluxBarrier technology, communicating the nuances of force feedback detail to your hands with remarkable clarity.
Don't miss a race.
View our calendar for the latest race information and how to register. Get yourself in the hot seat and start racing today.
Event Calendar