Fanatec® Podium DD1 Direct Drive Wheel Base
Regular price
$1,245.00 USD
Regular price
Sale price
$1,245.00 USD
Unit price
per
Sale
Sold out
The product is out of stock
The Direct Drive Revolution
In the late 90s, force feedback technology changed the world of sim racing completely. Now we welcome the Direct Drive era, taking force feedback realism to the next level.
OUTRUNNER MOTOR TECHNOLOGY
Podium wheel bases use an outrunner-type motor engineered from the ground up specifically for sim racing. Instead of using a random industrial motor, our custom motors are tailored without compromise for sim racing.
GERMAN DESIGN WITH UP TO 5 YEAR WARRANTY
This heavy piece of solid metal is engineered with German precision and built to last for many years. This is the last wheel base youll ever need!
Direct Drive Without The Hassle
Its all in the details. Our thousands of design hours means that you can just drive and enjoy.
WIRELESS DATA AND POWER
The endless rotation of our direct drive motor inspired the development of a unique solution to transfer data and power to the wheel inputs and displays wirelessly. This means no USB cables are flying around which can easily get damaged and make it difficult to let the wheel spin in a drift.
FULLY CERTIFIED, PLUG AND PLAY
The Podium DD1 is the first plug-and-play direct drive wheel base, featuring integrated electronics within the main housing. Its as easy to set up as our CSL and ClubSport series products. Rigorous EMI and ESD testing ensures stability and longevity.
Ready for the Future
Not only is the Podium DD1 fully compatible with the existing Fanatec ecosystem, its also prepped for future upgrades.
OLED DISPLAY
At the front of the housing sits an OLED display. This provides endless opportunities not only for tuning your wheel base, but also includes features for advanced users, displaying real-time motor and force feedback data. Check the temperatures, torque curves, and avoid force feedback clipping. Too complicated? Just enjoy the graphics.
FULL BACKWARDS COMPATIBILITY
Our proven automotive grade QR has been upgraded with a new locking system, retaining compatibility with all existing Fanatec steering wheels, while also being completely interchangeable. All new wheel bases and steering wheels will have changeable quick releases; in the future you will have the option to upgrade to a new QR system.
---
Custom-designed servo motor designed by our engineers and the first direct drive motor optimised for racing simulator applications.
Outrunner-type motor achieves outstanding peak torque of 20Nm, matching the torque output in most real race cars using power steering.
The Podium Wheel Base DD1 holding torque is not less than 15Nm even under heavy use in a race.
Motor acceleration and speed remains at the highest level, even with heavy steering wheels.
Ultra-low torque ripple ensures minimal mechanical distractions and the same smooth experience as in a belt driven wheel.
Wireless data and power to all Fanatec steering wheels to enable unlimited rotation of the steering wheel.
Integrated 2.7 256x64 resolution OLED display.
Podium wheel bases include advanced telemetry features in the OLED display for real-time motor and force feedback data such as power output, FFB clipping and more.
Upgraded Fanatec Tuning Menu.

Five presets for different games and applications
Steering lock
FFB Strength
Shock
ABS
Drift mode
Force
Spring
Damper
Force Effect Intensity

Support for advanced dual clutch bite-point mode.
Integrated electronics within wheel base housing, no external control box required.
The electronics ensure extremely low latency to provide immediate feedback from racing simulators.
Fully certified with CE, FCC, C-Tick, ROHS and all other certificates required by law, ensuring that this product does not interfere with other electronic devices.
Torque Key allows user to lock/unlock the DD1s full performance.
All existing and upcoming Fanatec peripherals fully supported.
Choose from a growing selection of Fanatec steering wheels in many different styles and price/quality levels.
Firmware can be updated with new features.
Fast 1000 Hz USB update rate.
Ultra-low latency due to integrated electronics and highest quality components.
Allows connection of two external shifters (e.g. H-pattern and sequential) in parallel.
Mount for ClubSport Static Shifter Paddles and other optional accessories.
Connection ports for peripheral devices: USB, Power, Pedals, Shifter 1, Shifter 2, Handbrake.
All-Aluminium housing.
Exchangeable brushed aluminium cover plates.
Supports Fanatec 3-hole mounting pattern (bottom mounting) and side mounting. Hard mounting to a cockpit is highly recommended due the high amount of torque.
Full Fanatec SDK support ensures game compatibility out of the box for all major racing games across all platforms.
Introducing the new Podium software for PC applications.

Show telemetry data from the racing simulation like speed, lap times, brake temperatures, tachometers on devices like smartphones, tablets or USB monitors.
Supports all major PC racing simulators like F1 2017, Dirt Rally, Assetto Corsa, Project Cars 2 and rFactor 2.
Control your Upgraded Fanatec Tuning Menu settings and presets directly from the software through the connected devices.
Save game specific settings to PC software, which will be automatically applied when the game is launched.
Introducing new FFB tuning features like speed sensitive dampening.

Automotive grade Quick Release system with rubber dampener for zero flex and movement between the steering wheel and wheel base.
Standard 3 years warranty.
Optional extensions for 5 years warranty.
---
Platforms
PC: This wheel base is compatible with PC in combination with all available steering wheels.
Xbox One ¶Ã' ©: ¶Ãƒ ¿The compatibility can be upgraded with (optional) steering wheels like the ¶Ãƒ ¿ClubSport Steering Wheel Universal Hub for Xbox One ¶Ãƒ ¿or the ¶Ãƒ ¿Steering Wheel CSL P1 for Xbox One. Without any Xbox One ¶Ã' © licensed steering wheel attached, the wheel base is NOT compatible to Xbox One ¶Ã' ©.
PlayStation ¶Ã' ©: This product is not compatible to any PlayStation ¶Ã' ©Ã' ¶Ãƒ ¿console and cannot be upgraded to achieve compatibility.
Peripherals
All Fanatec ClubSport Steering Wheels
All Fanatec CSL Steering Wheels
All Fanatec Pedals
All Fanatec Shifters
All Fanatec Cockpits
ClubSport Table Clamp V2.
---
PACKAGING DETAILS
Dimensions (L x W x H)51cm x 26cm x 28cm
Weight7.42kg
Volume weight13kg
WHATS INCLUDED
Podium Wheel Base DD1
Torque Key
Quick guide
Power supply with EU & UK plugs
USB cable
---
PlatformPC, XBox One Ready
Adjustable drift modeYes
Table ClampOptional
Tuning Menu through steering wheelYes
Adjustable sensitivityYes
Adjustable FF strengthYes
Adjustable springYes
Adjustable shockYes
Adjustable brake forceYes
Hardmount3-hole pattern, 5-hole pattern from bottom, Sidemount 2-hole pattern on each side
Adjustable ABS vibrationYes
Main MaterialAluminium
Display2.7" 256x64 OLED
Kill SwitchOptional
Cover platesBrushed Aluminium
Display modesClipping, FFB Telemetry, Wheel Base telemetry
Mode ButtonNo
Connection portsCAN, Data, Emergency Stop, Handbrake, Pedals, Shifter 1, Shifter 2, Torque Key
TorqueUp to 20Nm
Degrees of rotationUnlimited / Adjustable
Quick ReleaseYes
Cooling systemSingle fan
Force Feedback drive systemDirect Drive
USB update rate1000Hz
Rev Lights on Wheel BaseNo
Share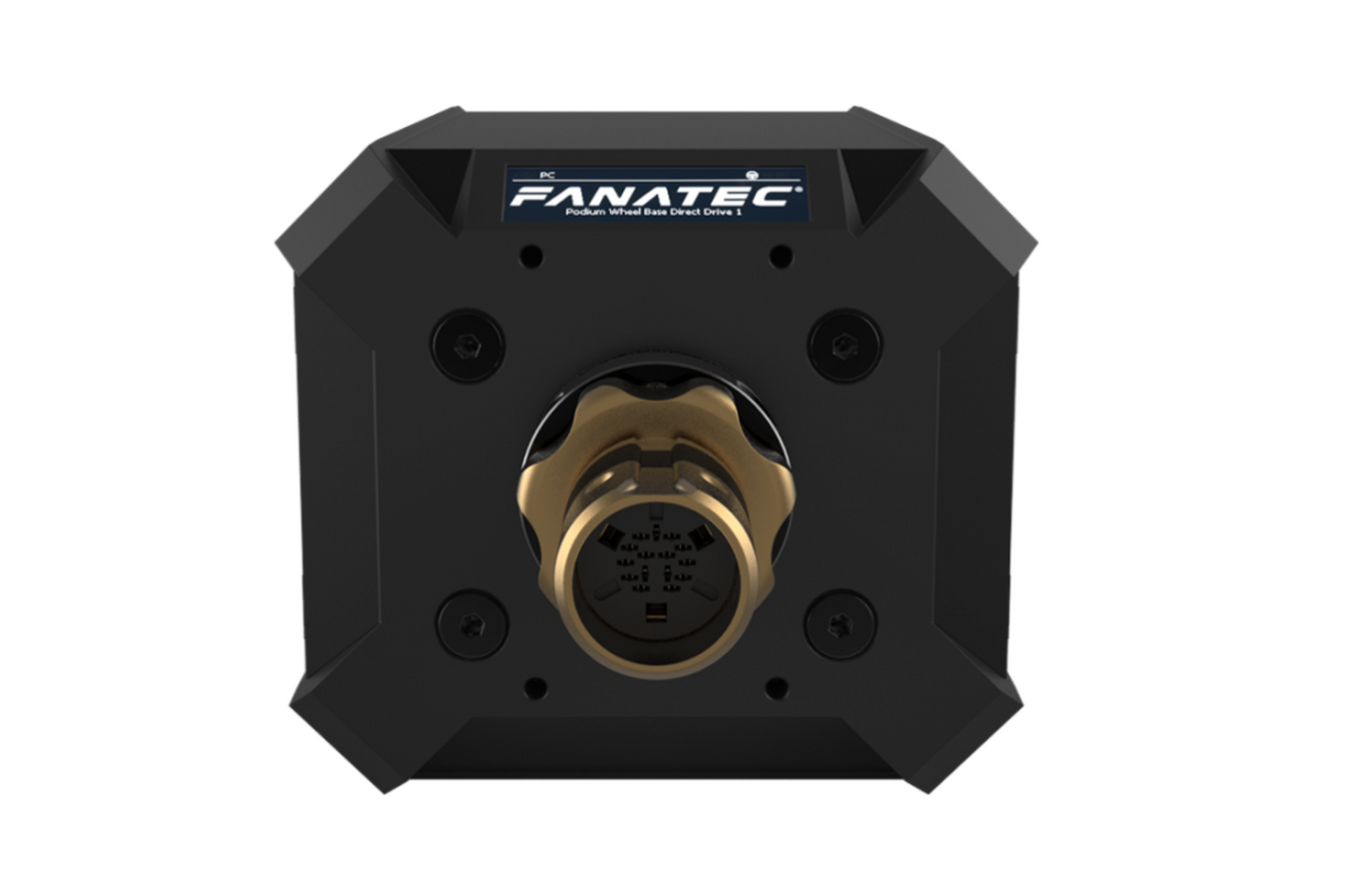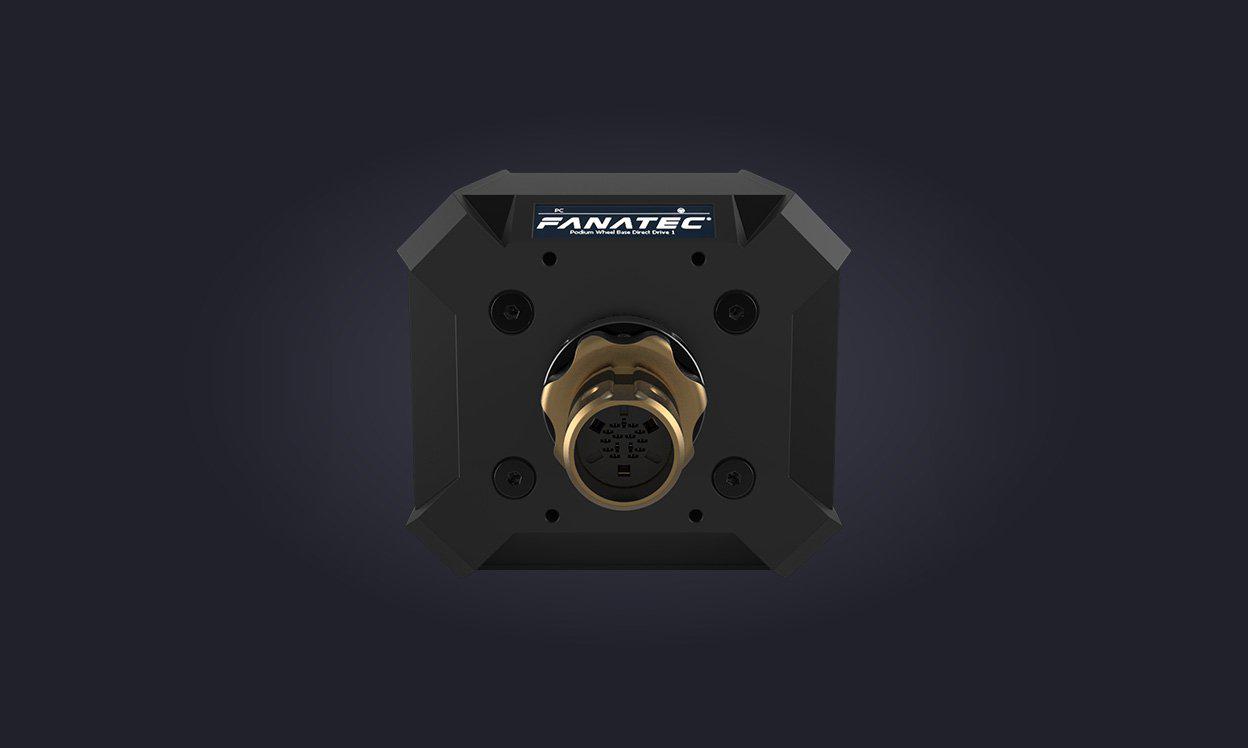 We're Experts

Our team of experts have experience on the track and on the sim. We'll do everything we can to help you set up the exactly what you need, making sure you don't miss a thing.

Ask us a Question

Quick Shipping

Everything that is in stock will ship the same day. We know you're eager to get in the racing seat, and we'll do everything we can to make sure it arrives safely at your doorstep.

Safety Matters

Even while racing on the sim, it is important to put safety first. Our collection of safety apparel contains gaming specific and FIA/SFI certified, top of the line products.

Shop Safety
Fanatec®
We offer the best products from the top in the industry. The 100% custom motor was developed in Germany specifically for sim racing. It delivers sensational performance thanks to patented FluxBarrier technology, communicating the nuances of force feedback detail to your hands with remarkable clarity.
Don't miss a race.
View our calendar for the latest race information and how to register. Get yourself in the hot seat and start racing today.
Event Calendar