Fanatec® Podium F1 Direct Drive Racing Wheel
Regular price
$1,868.00 USD
Regular price
Sale price
$1,868.00 USD
Unit price
per
Sale
Sold out
The product is out of stock
The First Ever Direct Drive System for PS4
Take your PS4 racing experience to the ultimate level with Fanatec Direct Drive technology. Our partnership with Sony Interactive Entertainment Europe means that the Podium Racing Wheel F1'© works seamlessly with all PS4 and PS4 Pro Systems. As well as PC. Switch out the wheel for an Xbox compatible version and it will work with Xbox too!
OFFICIALLY LICENSED BY FORMULA 1
The Podium Racing Wheel F1'© combines breakthrough technology with years of simulation hardware experience. Fanatec'© Direct Drive has no equal. It is quite simply the most realistic force feedback system ever on a console.
OFFICIALLY LICENSED FOR PLAYSTATION 4
This racing wheel defines the new standard for esports competition on the PlayStation. It has matched compatibility with the CSL Elite Racing Wheel for PS4 and therefore well supported by all important racing games. Compatibility is tested and certified. Just plug it in and race.
Direct Drive Without The Hassle
Its all in the details. Our thousands of design hours means that you can just drive and enjoy.
WIRELESS DATA AND POWER
The endless rotation of our direct drive motor inspired the development of a unique solution to transfer data and power to the wheel inputs and displays wirelessly. This means no USB cables are flying around which can easily get damaged and make it difficult to let the wheel spin in a drift.
FULLY CERTIFIED, PLUG AND PLAY
Podium Wheel Bases use an outrunner-type motor engineered from the ground up specifically for sim racing. Instead of using a random industrial motor, our custom motors are tailored without compromise for sim racing and exclusive to Fanatec.
Exclusive ClubSport Steering Wheel F1'© PS4 included
The F1'©-style with a compact 27cm diameter steering wheel features a vast array of features and controls, including the preinstalled Podium Advanced Paddle Module.
LOADED WITH FANATEC INNOVATION
11 buttons, 12-way multi-position switches, thumb encoders, rocker switches; weve packed a huge number of controls into this compact wheel, ergonomically positioned for quick access. RevLEDs with nine multi-color LEDs can show motor RPM and optimal shifting point, and the two flag LED bars (FlagLEDs) with three multi-color LEDs can indicate tire slip, fuel level, or incoming radio.
THE MOST AUTHENTIC PADDLE SYSTEM EVER
The Podium Advanced Paddle Module provides two magnetic shifters that generate a solid, positive feel to every shift and two additional magnetic paddles for functions like DRS. Dual analogue clutch paddles allow F1'©-style launch control by pre-defining the clutch bite point. Automotive grade quality, with real carbon fibre paddle plates and an aluminium cage.
Steering Wheel:
Officially licensed by Formula 1.
Officially licensed for PlayStation 4.
F1'©-style steering wheel with a compact diameter of 27 cm for fast movements and reactions.
Durable construction made of metal and carbon fibre.
5 mm solid carbon fibre front plate with blue accents.
Grips made of genuine Italian made Alcantara'©. This material is easy to clean and provides sensational grip.
Steering wheel weight: approx. 1375 g (subject to production changes).
11 buttons with ultra-reliable switches.
Two rocker switches.
Two 12-way multi-position switches with rotary encoder functionality.
Analogue joystick to look around in the cockpit or to map with any other axis.
7-way FunkySwitch to change settings: Turn left; turn right; move left, right, up and down; push (active in Tuning Menu and compatible with any PS4 game).
Two thumb encoders well-reachable while driving without releasing the grips.
Two vibration motors integrated with the grips, controllable through wheel Tuning Menu (SHO) or by game through Fanatec SDK.
Revolution LED bar (RevLEDs) with nine multi-color LEDs to show motor RPM and optimal shifting point as games program through the Fanatec SDK.
Two flag LED bars (FlagLEDs) with three multi-color LEDs each to indicate tyre slip, fuel level, incoming radio as games program through the Fanatec SDK.
1" 128x64 OLED display to show telemetry data like speed or gear as games program through the Fanatec SDK.
Tuning functions with OLED display to adjust settings independent from the game and during gameplay (see description of compatible wheel base/racing wheel for details).
PODIUM Advanced Paddle Module pre-installed, featuring F1'©-style dual clutch paddles and dual magnetic shifters plus two additional magnetic paddles.
Racing style button caps included.
Direct Drive Wheel Base:
PS4-compatible direct drive wheel base.
Custom-designed servo motor optimised for racing simulator applications.
Outrunner-type motor achieves outstanding peak torque of 20Nm, matching the torque output in most real race cars using power steering.
Holding torque is not less than 15Nm even under heavy use in a race.
Motor acceleration and speed remains at the highest level, even with heavy steering wheels.
Ultra-low torque ripple ensures minimal mechanical distractions and the same smooth experience as in a belt driven wheel.
Wireless data and power to all Fanatec steering wheels to enable unlimited rotation of the steering wheel.
Integrated 2.7 256x64 resolution OLED display with advanced telemetry features for real-time motor and force feedback data such as power output, FFB clipping and more.
Upgraded Fanatec Tuning Menu
Integrated electronics and highest quality components ensure ultra-low latency, providing immediate feedback from racing simulators.
Fully certified with CE, FCC, C-Tick, ROHS and all other certificates required by law, ensuring that this product does not interfere with other electronic devices.
Torque Key allows user to lock/unlock the full performance of the wheel base.
Choose from a growing selection of Fanatec steering wheels in many different styles and price/quality levels.
Firmware can be updated with new features.
Motor driver firmware can also be updated.
Fast 1000 Hz USB update rate.
Allows connection of two external shifters (e.g. H-pattern and sequential) in parallel.
Mount for ClubSport Static Shifter Paddles (should not be used in combination with Advanced Paddle Module) and other optional accessories.
Connection ports for peripheral devices: USB, Power, Pedals, Shifter 1, Shifter 2, Handbrake.
All-Aluminium housing featuring unique carbon fibre panels with blue accents.
Supports Fanatec 3-hole mounting pattern (bottom mounting) and side mounting. Hard mounting to a cockpit is highly recommended due the high amount of torque.
Automotive grade Quick Release system with rubber damper for zero flex and movement between the steering wheel and wheel base.
2 years standard warranty on the steering wheel and the Advanced Paddle Module.ƒ¿
3 years extended warranty on the wheel base.
---
Platforms
PlayStation'© systems:ƒ¿All PlayStation'©4 and PlayStation'© Pro systems. PS4 games which support the wheels advanced functionality include Gran Turismo Sport, Assetto Corsa, Project CARS 2, and DiRT 4. All upcoming advanced driving simulator games with support of force feedback racing wheels will be compatible. For a complete list of compatible games please visit this site. This product is currently not certified for future PlayStation systems.
PC:ƒ¿This racing wheel is compatible with PC on all major racing games.
Other platforms: Compatibilities to other platforms depend on the used steering wheel. For more information, please check the product page of the steering wheel you plan to use.
Please note: PC and other platform compatibilities are tested by Fanatec, but not tested nor endorsed by Sony Interactive Entertainment Inc.
Peripherals
All Fanatec ClubSport Steering Wheels
All Fanatec CSL Steering Wheels
All Fanatec Pedals
All Fanatec Shifters
Fanatec ClubSport Handbrake
All Fanatec Cockpits
ClubSport Table Clamp V2.
This steering wheel is not compatible with the ClubSport Wheel bases V1 and V1.5 for electronic reasons.
Please note: Compatibilities to all peripherals are tested by Fanatec, but not tested nor endorsed by Sony Interactive Entertainment Inc.
---
The F1 FORMULA 1 logo, F1 logo, FORMULA 1, FORMULA ONE, F1, FIA FORMULA ONE WORLD CHAMPIONSHIP, GRAND PRIX and related marks are trade marks of Formula One Licensing BV, a Formula 1 company. '¸ 2018 Cover images Formula One World Championship Limited, a Formula 1 company. Licensed by Formula One World Championship Limited. The FIA and FIA AfRS logos are trade marks of Federation Internationale de lAutomobile. All rights reserved.
---
PACKAGING DETAILS
Dimensions (L x W x H)53.5cm x 53.5cm x 31.1cm
Weight16kg
Volume weight11.61kg
WHATS INCLUDED
Podium Wheel Base DD1 PS4 (Not available separately at this point)
ClubSport Steering Wheel F1'© PS4 (Not available separately at this point)
Pre-installedƒ¿Podium Advanced Paddle Moduleƒ¿with Formula plates
Torque Key
Quick guide
Power supplyƒ¿(480 Watt)
Power cable (regional)
USB cable
Racing style button caps
---
Buttons11
Adjustable drift modeYes
Adjustable shockYes
Adjustable springYes
Adjustable FF strengthYes
Adjustable sensitivityYes
Quick releaseClubSport, Exchangeable
Connection portsCAN, Data, Emergency Stop, Handbrake, Pedals, Shifter 1, Shifter 2, Torque Key
Rev lightsYes
Cooling systemSingle fan
Rev Lights on Wheel BaseNo
Degrees of rotation90ƒ¸-1080ƒ¸
TorqueUp to 20Nm
Detachable button capsIncluded, Yes
Tuning Menu through steering wheelYes
Diameter270mm
Display1" 128x64 OLED, 2.7" 256x64 OLED
USB update rate1000Hz
Force Feedback drive systemDirect Drive
Funky switch7-way
Grip materialAlcantara'©
Hardmount3-hole pattern, 5-hole pattern from bottom, Sidemount 2-hole pattern on each side
Main MaterialAluminium
Mode ButtonNo
Adjustable ABS vibrationYes
Adjustable brake forceYes
Paddle shifter adjustabilityExchangeable
PlatformPC, PS4, XBox One Ready
Share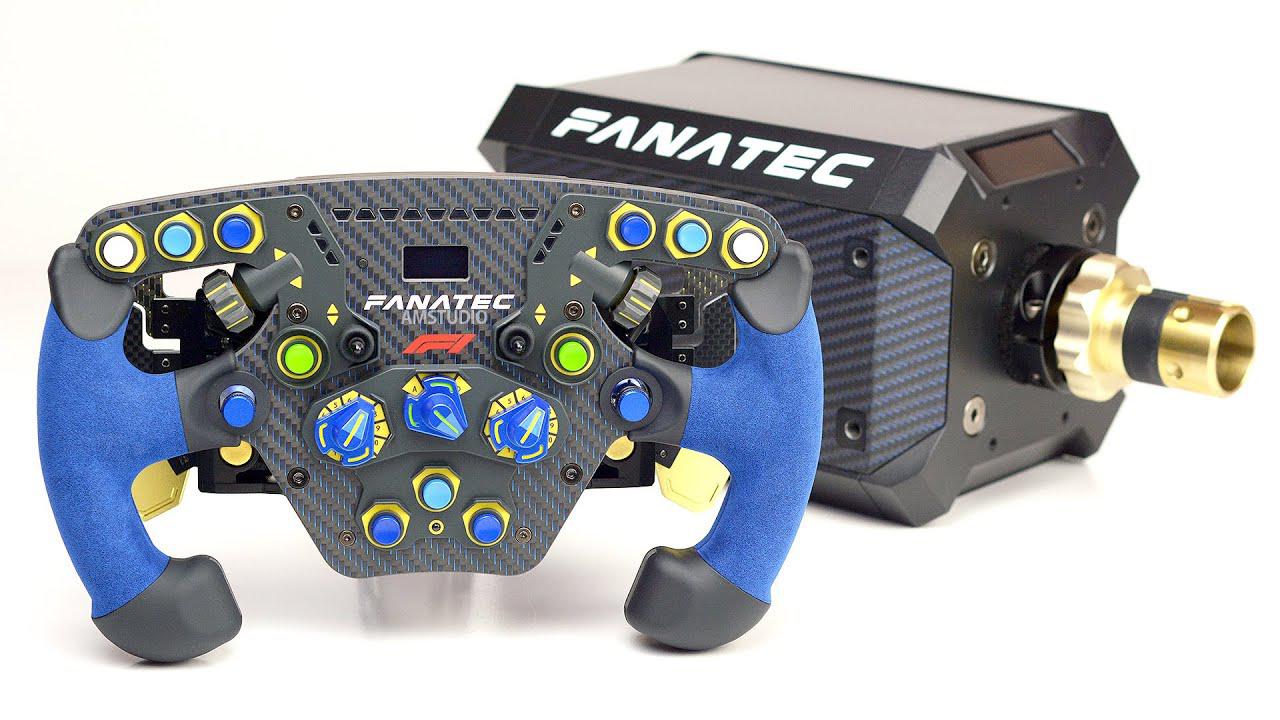 We're Experts

Our team of experts have experience on the track and on the sim. We'll do everything we can to help you set up the exactly what you need, making sure you don't miss a thing.

Ask us a Question

Quick Shipping

Everything that is in stock will ship the same day. We know you're eager to get in the racing seat, and we'll do everything we can to make sure it arrives safely at your doorstep.

Safety Matters

Even while racing on the sim, it is important to put safety first. Our collection of safety apparel contains gaming specific and FIA/SFI certified, top of the line products.

Shop Safety
Fanatec®
We offer the best products from the top in the industry. The 100% custom motor was developed in Germany specifically for sim racing. It delivers sensational performance thanks to patented FluxBarrier technology, communicating the nuances of force feedback detail to your hands with remarkable clarity.
Don't miss a race.
View our calendar for the latest race information and how to register. Get yourself in the hot seat and start racing today.
Event Calendar