Fanatec® Podium Steering wheel R300
Regular price
$519.00 USD
Regular price
Sale price
$519.00 USD
Unit price
per
Sale
Sold out
The product is out of stock
Fanatec Podium Steering wheel R300
An ideal multi-purpose wheel
Podium Steering Wheel R300 is a high-end, multi-purpose wheel. This product combines the Podium Wheel Rim R300, Podium Hub, Podium Advanced Paddle Module, and ClubSport Button Cluster Pack.
AUTOMOTIVE-GRADE MATERIALS
The Podium Wheel Rim R300 is made in brushed and anodised aluminum and covered in premium smooth leather and gold stitching. Gold, anodised aluminium bolts are included.
The diameter is 30cm, making this wheel a good all-rounder, suitable for many vehicle types.
ALUMINIUM MONOCOQUE
The Podium Hub space frame design surrounds the electronic components for the lightest possible weight. The central hub is created from a single piece of anodised aluminium for maximum strength.
Customisation and Flexibility
Create your perfect steering wheel! Easily upgrade and customise using Fanatec modular components. The Podium Hub contains connectors for the Podium Advanced Paddle Module, two Universal Hub button clusters, and a dataport connector for attaching future devices.
ADJUSTABLE BUTTON CLUSTERS
The included button clusters can be aligned and adjusted along the front rails of the Podium Hub to suit your preferences and wheel rims of different shapes and sizes.
WHEEL RIM COMPATIBILITY
The Podium Hub features mounting holes for wheel rims using the 6x70mm or 3x50mm bolt pattern. It is possible to run third-party steering wheels on PC using this Hub if connected via an independent data connection.
The most authentic paddle system ever
Featuring magnetic shifters and Hall sensors, the Podium Advanced Paddle Module is the ultimate shifter and paddle system for your Fanatec steering wheel.
Sensational feel, unbeatable performance
The magnetic click generates a solid, positive feel to every shift. Allows for rapid shifting. Two sets of paddle plates are included, suitable for small and large steering wheels
More than just dual clutch
The paddles allow for four different modes (on supported steering wheels): Advanced clutch bite point mode, clutch/handbrake mode, brake/throttle mode, and mappable axis mode.
FURTHER LINKS
QUESTIONS ABOUT THE PRODUCT? FURTHER PODIUM PRODUCTS
FEATURES
Podium Wheel Rim R300
Podium Advanced Paddle Module (4 magnetic paddles + 2 analog paddles)
Podium Hub
Modular design
Two adjustable button clusters (2 x 3 buttons)
Premium automotive grade materials
Anodised aluminum
Smooth leather
Real carbon fiber
Neodymium magnets
Hall sensors on the analog paddles
Podium Steering Wheel R300 weight: 1776g (subject to production changes)
COMPATIBILITY
Wheel Bases
All PODIUM Wheel Bases (including Racing Wheel versions)
ClubSport Wheel Base V2 (control of Tuning Menu not possible without optional button module (not yet available))
ClubSport Wheel Base V2.5
CSL Elite Wheel Base V1 and V1.1 (control of Tuning Menu not possible without optional button module (not yet available))
All other CSL Elite Wheel Bases (including Racing Wheel versions)
Wheel Rims:
Due to the smaller diameter of the R300, there is a tight clearance between the Podium Button Module Endurance and the base of the wheel rim.
Platforms
Xbox One'©: the Podium Steering Wheel R300 is not compatible with Xbox One.
PC and other Platforms: The specifications of the compatible wheel bases will remain unchanged.
PS4: The functionality of this product on PS4 can be limited by the capabilities of the console (subject to firmware/OS changes and developer support). The full functionality can only be guaranteed on PC; this is also game-dependent.
SPECIAL NOTES
In order to operate this product, a compatible Fanatec Wheel Base (not included) is mandatory!
In this configuration, the Podium Steering Wheel R300 does not include a Tuning Menu button. Tuning Menu features can be accessed via the Fanatec software on PC.
WHATS INCLUDED
Podium Wheel Rim R300
Podium Hub
2 x ClubSport Button Cluster Pack (3 buttons each)
Podium Advanced Paddle Module
Additional set of gold, anodised aluminium bolts
TECHNICAL SPECIFICATIONS
PlatformPC, PS4 Ready
Diameter300mm
MaterialAluminium
Grip materialLeather
Share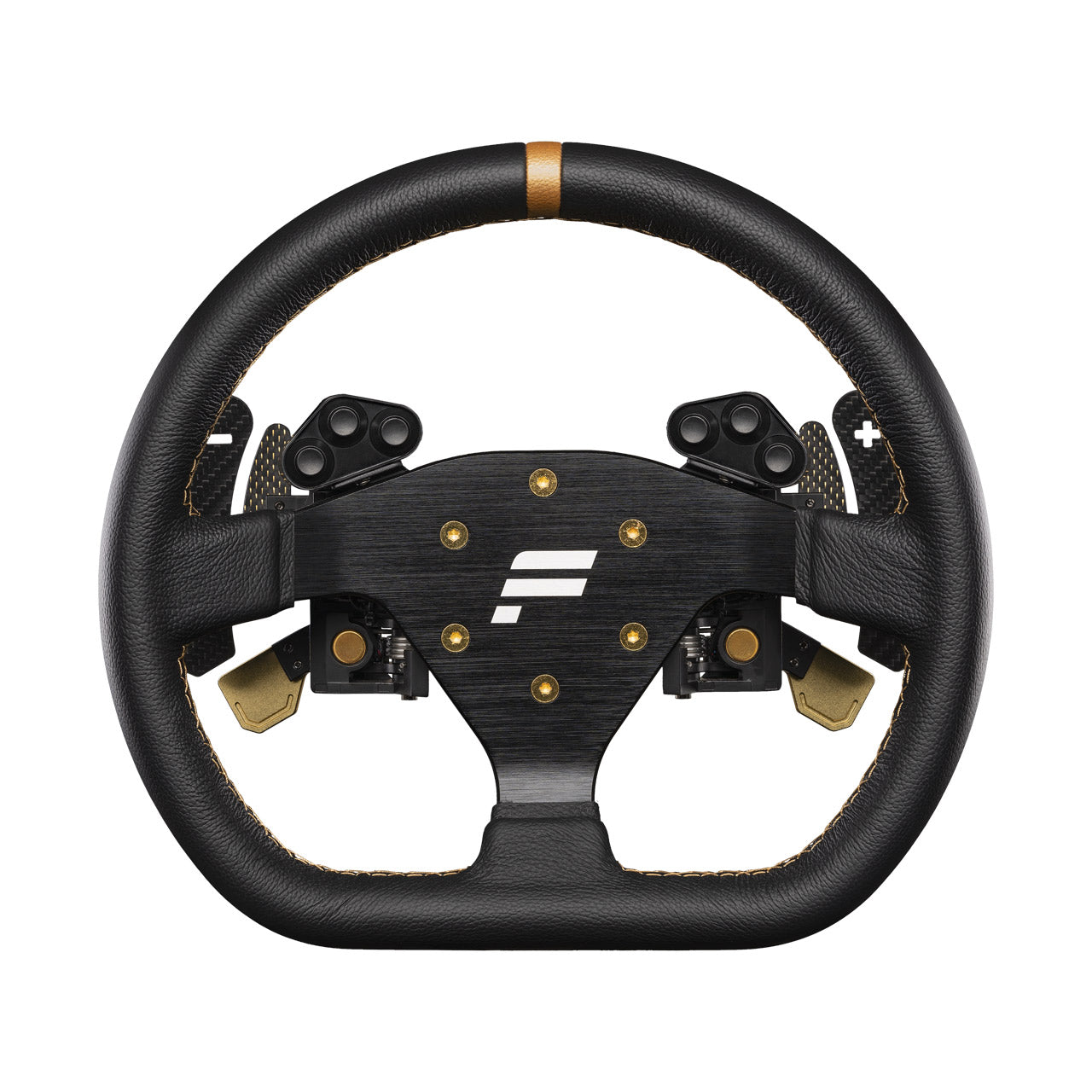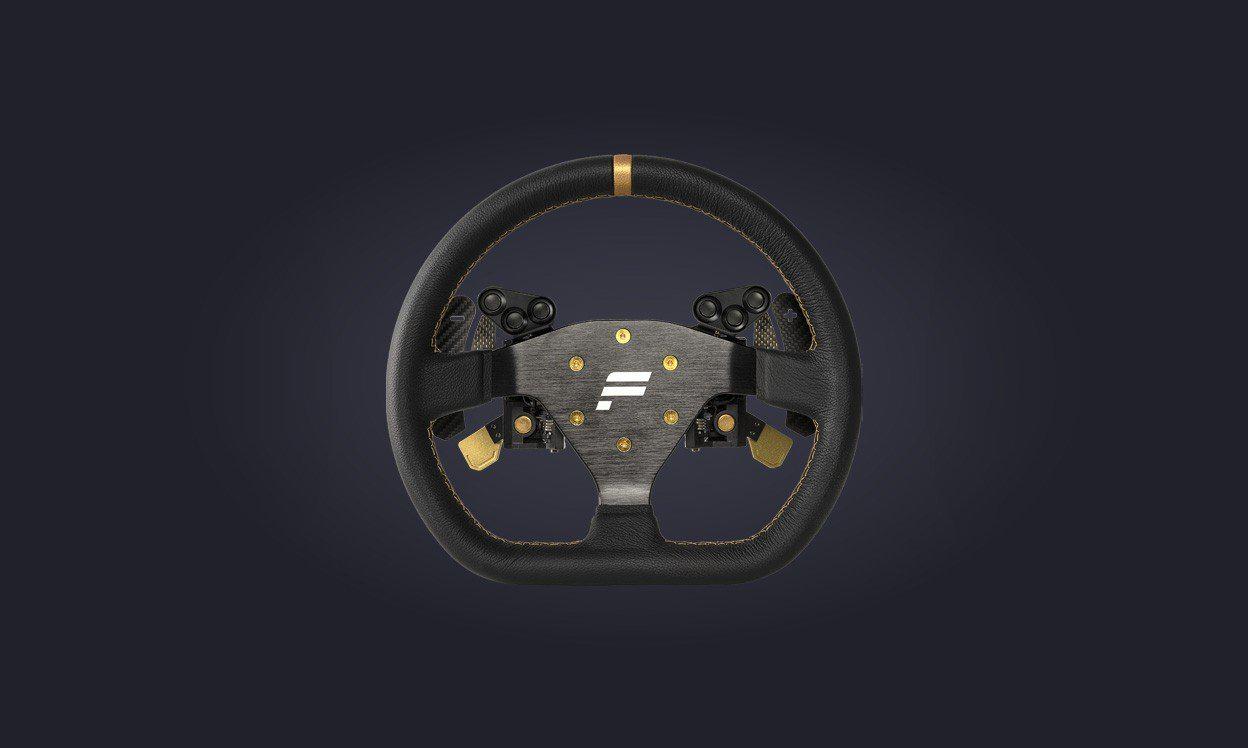 We're Experts

Our team of experts have experience on the track and on the sim. We'll do everything we can to help you set up the exactly what you need, making sure you don't miss a thing.

Ask us a Question

Quick Shipping

Everything that is in stock will ship the same day. We know you're eager to get in the racing seat, and we'll do everything we can to make sure it arrives safely at your doorstep.

Safety Matters

Even while racing on the sim, it is important to put safety first. Our collection of safety apparel contains gaming specific and FIA/SFI certified, top of the line products.

Shop Safety
Fanatec®
We offer the best products from the top in the industry. The 100% custom motor was developed in Germany specifically for sim racing. It delivers sensational performance thanks to patented FluxBarrier technology, communicating the nuances of force feedback detail to your hands with remarkable clarity.
Don't miss a race.
View our calendar for the latest race information and how to register. Get yourself in the hot seat and start racing today.
Event Calendar