Fanatec® Podium Wheel Porsche 911 GT3 R (Leather)
Regular price
$675.00 USD
Regular price
Sale price
$675.00 USD
Unit price
per
Sale
Sold out
The product is out of stock
911 GT3 R. Born to Win.
The Podium Steering Wheel Porsche 911 GT3 R is the ultimate wheel for GT racing. The complete set of modular steering wheel components from the Podium range come together to create a high-performance, full-scale replica of the Porsche 991 GT3 R wheel.
PODIUM-SPEC COMPONENTS.
Combine the Podium Wheel Rim Porsche 911 GT3 Cup, Podium Button Module Endurance, Podium Advanced Paddle Module, and Podium Hub for a feature-rich steering wheel of the highest quality.
OFFICIAL PORSCHE REPLICA.
The Porsche 911 GT3 Cup rim is a premium quality replica of the real Porsche steering wheel based on original CAD data, built to automotive-grade quality. The brushed and anodised aluminium rim is covered in genuine, premium smooth leather.
Extensive Functionality.
The customisable OLED display offers enhanced display capabilities through Intelligent Telemetry Mode (ITM). RGB LEDs and multiple input types are arranged neatly within the wheel rim, with instant access to force feedback adjustments using the Tuning Menu button.
MULTIPLE INPUTS.
With 10 buttons, two 2-way toggle switches, a 2-axis analogue stick, 7-way FunkySwitch, and two 12-position switches which can also be configured as endless rotary encoders, youll have a wealth of controls at your fingertips.
MULTIPLE OUTPUTS.
The 9 high-intensity RGB RevLEDs and 6 high-intensity RGB FlagLEDs surround the 2.7 OLED display. Intelligent Telemetry Mode can switch between 5 different game telemetry data layouts (manually or triggered by the game).
The most authentic paddle system ever.
Featuring magnetic shifters and Hall sensors, the Podium Advanced Paddle Module is the ultimate shifter and paddle system.
SENSATIONAL FEEL, UNBEATABLE PERFORMANCE.
The magnetic click generates a solid, positive feel to every shift. Allows for rapid shifting. The secondary paddles can be mapped to regularly-triggered button inputs.
MORE THAN JUST DUAL CLUTCH.
The paddles allow for four different modes: Advanced clutch bite point mode, clutch/handbrake mode, brake/throttle mode, and mappable axis mode.
---
Podium Wheel Rim Porsche 911 GT3 Cup (Leather)

Aluminium wheel rim with a 32cm diameter
Metal Porsche badge with detailed 3D shape
Premium smooth leather
Podium Button Module Endurance

Real carbon fibre front plate and internal metal reinforcements for maximum stability
Rubber-coated glass fibre reinforced backplate
Full-scale replica to class-leading endurance GT3 racing car
10 buttons
Two 2-way toggle switches
Two 12-way Multi-Position Switches with Encoder Mode (endless rotation)
One FunkySwitch (7-way joystick/encoder)
One analogue joystick (2-axis)
Nine RGB high-intensity RevLEDs
Two FlagLED groups with three RGB high-intensity LEDs each
User-defined LED behavior via FanaLab
Integrated 2.7 256x64 resolution OLED display
Tuning functions in the OLED display
Support for Intelligent Telemetry Mode (ITM)
Clutch bite point indication on the OLED display (when used in combination with the Podium Advanced Paddle Module)
Detachable button caps, compatible with other Fanatec button caps (e.g. Racing Style)
Reversible DataPort-C connector
Customisable button labels (sticker set included)
Podium Advanced Paddle Module (four magnetic paddles + two analog paddles)

Paddle Plates made of real carbon fibre
Cage made of CNC machined aluminium
Neodymium magnets
Hall sensors on the analogue paddles
Podium Hub

Gold anodised aluminium monocoque
Ultra sturdy and lightweight space frame design
DataPort-C connector ¶Ãƒ ¿
ClubSport Quick Release Adapter (Supports interchangeable Quick Release)

Combined weight: 2193g
---
Platforms
Wheel Bases:
PODIUM Wheel Base DD1
PODIUM Wheel Base DD2
PODIUM Racing Wheel F1 ¶Ã' © PS4
Note: While the Podium Hub is fully supported by our CSL and ClubSport wheel bases, the Podium Button Module Endurance is currently only compatible with the Podium Series direct drive systems. Compatibility to other Fanatec wheel bases will be added in future firmware updates.
Platforms
Xbox One ¶Ã' ©: the Podium Steering Wheel Porsche 911 GT3 R is not compatible with Xbox One.
PC and other Platforms: The specifications of the compatible wheel bases will remain unchanged.
PS4: The functionality of this product on PS4 can be limited by the capabilities of the console (subject to firmware/OS changes and developer support). The full functionality can only be guaranteed on PC; this is also game-dependent. ¶Ãƒ ¿
---
In order to operate this product, a compatible Fanatec Wheel Base (not included) is mandatory!
---
WHATS INCLUDED
Podium Wheel Rim Porsche 911 GT3 Cup (Leather)
Podium Button Module Endurance
Podium Advanced Paddle Module
Podium Hub (includes ClubSport Quick Release Adapter)
---
PlatformPC, PS4 Ready
Detachable button capsYes
Display2.7" 256x64 OLED
Dual analog paddle modesAdvanced clutch bite-point mode, Brake/throttle mode, Clutch/handbrake mode, Clutch bite-point mode, Mappable analog axis mode
Toggle switchYes (2)
Vibration motorsNo
Analog joystickYes
Quick releaseClubSport, Exchangeable
Rev lightsYes
Funky switch7-way
Grip materialLeather
Diameter320mm
Buttons10
Share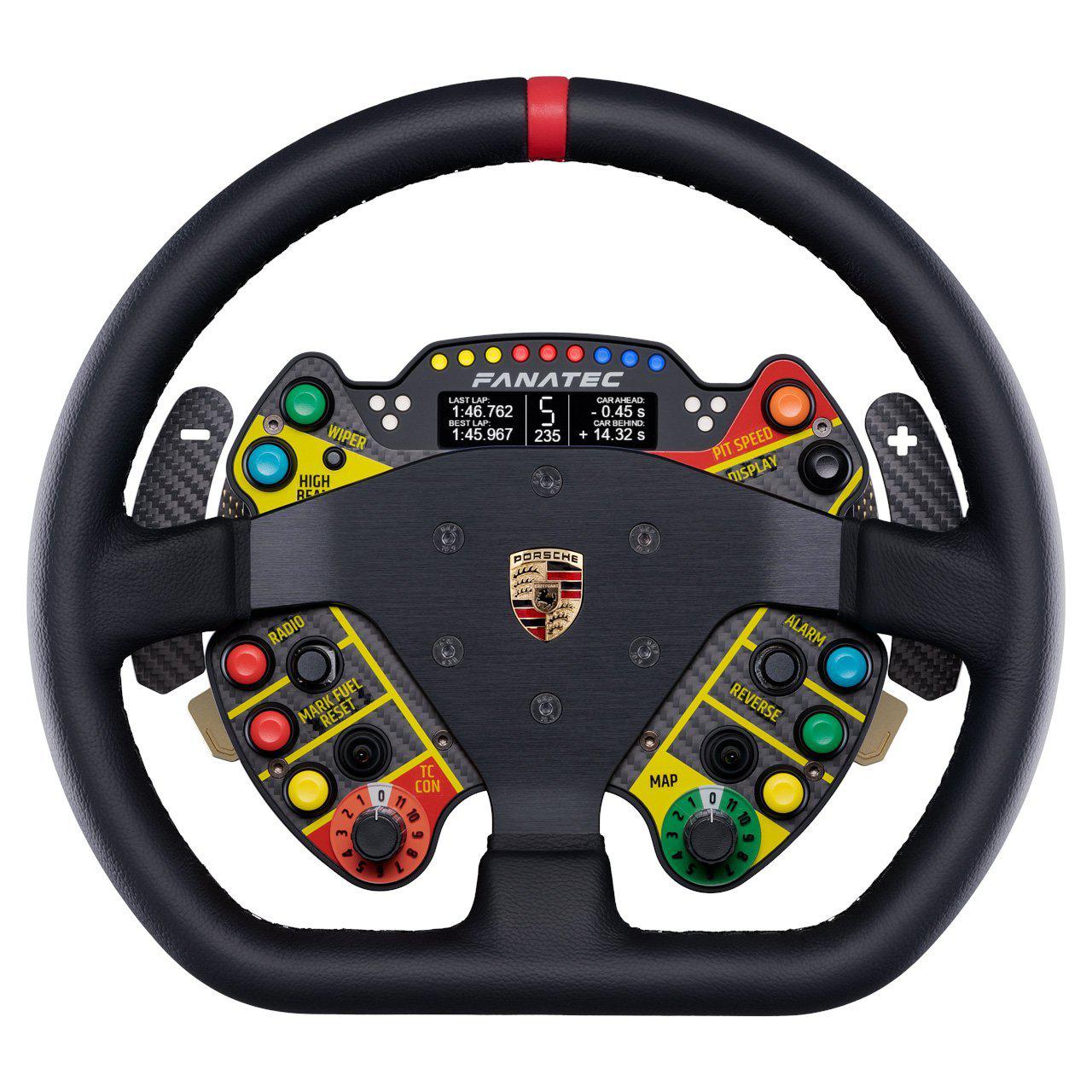 We're Experts

Our team of experts have experience on the track and on the sim. We'll do everything we can to help you set up the exactly what you need, making sure you don't miss a thing.

Ask us a Question

Quick Shipping

Everything that is in stock will ship the same day. We know you're eager to get in the racing seat, and we'll do everything we can to make sure it arrives safely at your doorstep.

Safety Matters

Even while racing on the sim, it is important to put safety first. Our collection of safety apparel contains gaming specific and FIA/SFI certified, top of the line products.

Shop Safety
Fanatec®
We offer the best products from the top in the industry. The 100% custom motor was developed in Germany specifically for sim racing. It delivers sensational performance thanks to patented FluxBarrier technology, communicating the nuances of force feedback detail to your hands with remarkable clarity.
Don't miss a race.
View our calendar for the latest race information and how to register. Get yourself in the hot seat and start racing today.
Event Calendar